One stays cool in the warmer months by donning the white t-shirt.
shirt: American Apparel, earrings: Sportsgirl, elephant necklace: Indonesia, watch: Chanel J12 classic, elephant ring: Diva, bracelet/bangle thingy: Indonesia, tights: Platinum, shoes: Mimi Loves Jimmy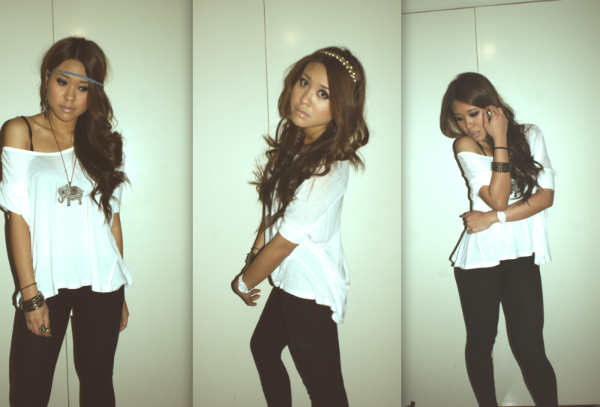 Weather is to my liking today. Feeling lucky that tan did not fade during winter. Had to rummage through packed summer wardrobe to find suitable outfit. Here come the memories:
THE STORY OF THE BRACELET:
Short work experience program at Chic magazine in Indonesia last summer had me working with a woman scarily similar to Nuclear Wintour. Devil had me running around doing dirty work such as picking up coffees, storing models' belongings, picking up clothes for photoshoots. Found myself rocking back and forth in the corner of the office with my tenth cup of coffee on some nights. I am only slightly joking.
On my last day of the program, devil wears extremely adorable bracelet that wraps around her bony wrist and turns into a sequence of bangles. She gives it to me.
ONE RING TO RULE THEM ALL! Well, not quite. Has a slightly unhealthy obsession with elephants. Before beautiful sister left to work in France for two years she left me the elephant ring to remember her by. In love with the girl.
Anyway. Had wonderful afternoon tea today in the lovely weather. Little cupcakes :)