Or even better...LINDT?? Their chocolates are ever so tasty and they melt in your mouth and then you feel like you're having an *insert shade of Nars most popular blush* (if you get my drift) and you just DIE because they come in the SMALLEST of portions!
If from this and my previous post you have not come up with the conclusion that I have an obsession with chocolate lounges, you will cotton on to it in the next couple of weeks.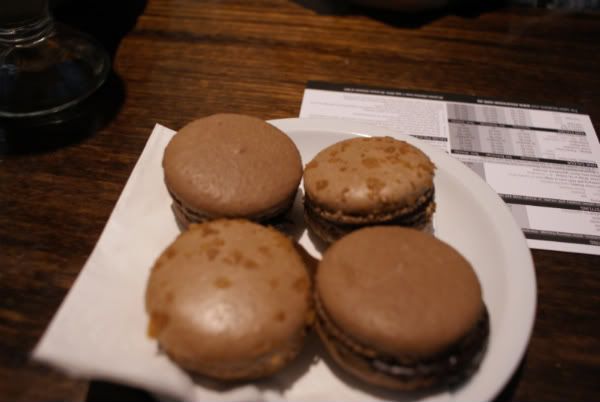 I do love a good chocolate lounge. Will religiously worship person who came up with brill idea when I find them. Lindt Cafe is probably my favorite lounge, on account of delicious macaroons depicted in picture above. Im torturing you aren't I? Yes, I do love a good torture chamber as well. I kid. Heh. Heh...:S Moving on.
We like the hazelnut macaroons the best. Only because I too have an obsession with hazelnuts. Like a squirrel. Wooo little squirrels! So cute! Devastated that we don't have them in Australia. Surrounded by weirdo marsupials instead. Why must I keep veering off topic today..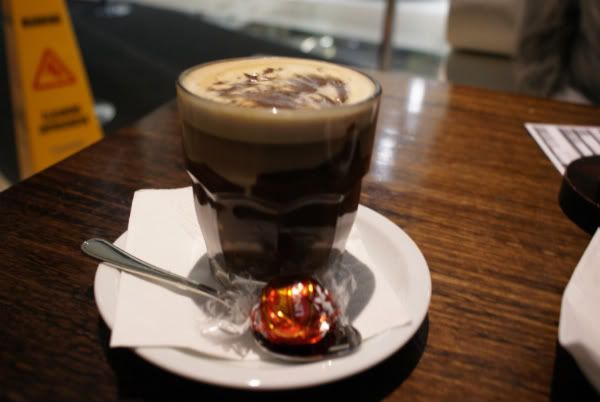 Must also recommend the mocha. Taste is that of wicked, evil, rich chocolate married with a knockout blow of a caffeine hit. Note: caffeine hit is extremely powerful. Similar to a king hit. Maybe stronger. This shit keeps me up all night. Though judgment is unreliable seeing as I have a low low loww tolerance to caffeine.
I love: scraping the chocolate sauce from the inside of glass and mixing it all in.
I hate: how high end cafes and restaurants make you do half the preparation of your meal and make you pay twice as much.
That milkshake was evil. The devil of liposuction created that milkshake just so he could get more customers. If on diet, tread around this beverage carefully and head for the mocha. Haha diet? What diet??
You can find Lindt in Melbourne in the city down Collins St or at Chadstone. Happy eating! :)